How to spruce up your Built-in Bedroom Cupboards
Tired of those boring run of the mill, plain white built-in bedroom cupboards? The year of 2020 is definitely a time for change and keeping up with modern trends. As we know our bedroom is our safe haven, where we lay to rest every night after dealing with all the stresses and activities of the day. So why canít we have it the way we want it to look? Exactly! There is no reason why not. The only question is how can we spruce up the drab plain cupboards for something new and exciting?
Choosing the correct cabinetry is a fickle task, as you are setting a tone for the rest of the bedroom. The incorrect choice could be a costly exercise, leaving you with a bitter taste in your mouth. Most people would play it safe and stick to the plain white built-in bedroom cupboards. However, itís time to stand out! The first thing to look at when making a decision is what style suits you, whether you want rustic, modern, contemporary or a boudoir fit for a king and queen, it is of the utmost importance to remember not to substitute functionality for aesthetics.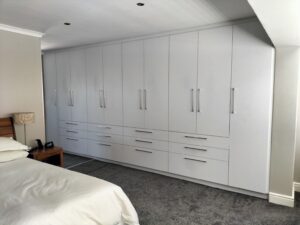 Below are some ideas of styling that will compliment your new bedroom cupboards:
Minimalistic: Whilst this style follows through from 2019, the minimalist look and feel is timeless and will follow through for years to come. To achieve this look, we can create handleless cupboards, for a sleek and modern feel.

Modern: the modern look also pulls through from 2019, however close to the minimalist, a modern bedroom entails, high gloss finishes on the wardrobes or even mirrored doors to allow for a modern and bold look.

Natural: This style embodies natural wood finishes, even with natural cut stones such as granite or marble really bring a room together. Creating an almost farm style/ log cabin away from home approach in your bedroom can leave you feeling rested and refreshed with all the natural finishings around you.

Boudoir: this is a style that embellishes luxury, making use of plain fitted cupboards with elegant and stylish handles made from brass or even crystal. Following this tone throughout the room creates a finished and luxurious bedroom feel.

Industrial: This style is more planned out, and making use of metal/ brushed steel finishes is a more challenging task, as this is still your living space.matching the metal finishes with raw woods bring out an industrial but also rustic feel to your bedroom.
Follow our blog for more style ideas and of course Totally Custom Designs made specifically for you. Allow us to bring your vision to life.†