7 Ways to cut costs in a New Kitchen Renovation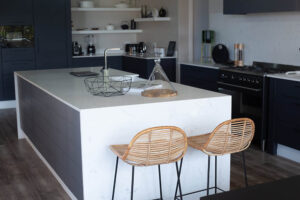 1. REUSE MATERIALS
Reusing materials as often as one can, can reduce the cost of a kitchen renovation on a substantials scale. Most kitchen renovations begin with gutting the entire space, and beginning a new. However, reusing the kitchen cupboard carcasses can save you money by just replacing countertops and doors. Even recutting and moving the cupboards to suit your new layout will still be cheaper than all new cabinetry.
2. REDUCE WASTAGE
Reducing waste is a fine way of saving a few bucks when doing a kitchen renovation. Reselling of unused cabinetry can also make some of your money back. Just because the kitchen is no longer your taste doesnít mean itís not someone else's. Even buying in second hand cabinetry can save some money when planning your renovation.
3. PICK EXPENSIVE FITTINGS SELECTIVELY TO CUT KITCHEN RENOVATION COSTS
If you cannot afford to redo an entire kitchen perhaps a centre piece or an island is the way to go, we can look at installing a feature piece and changing some of the cupboard handles or front doors. That way you can have a full perception of a new kitchen without spending so much redoing everything. Using cheaper materials for internal use where it is not visible to your guests is also a good way to reduce the cost.
4. RETHINK EXISTING KITCHEN SPACE
Making use of negative space is an ideal way to save on storage. Instead of having dead unused space in your kitchen, rather use the space for storage. Alternatively if you have a smaller kitchen using open areas for storage without cabinets is a hip new trend. Hanging splashbacks and wall mounted magnets to store knives and cooking utensils are a great way to decorate your kitchen and make use of open space that was otherwise not used.
5. REDUCE STRUCTURAL ALTERATIONS IN A KITCHEN REMODEL
There is often no need for structural kitchen alterations if you plan your kitchen remodel correctly. Making use of existing walls and is the best way to move forward. If you are in need of doing structural or additional building work, building straight and square with a standard roof is the best way forward. Adding curves and rounded walls is costly and ineffective in pulling off a kitchen renovation.
6. CHOOSE END-OF-LINE KITCHENS TO CUT NEW KITCHEN COSTS
Getting an end of line or display kitchen is one of our favourite ways to save costs. Getting a display unit is cheaper, and none of your home guests will be none the wiser. Then adding or removing additional units to suit your space will be extremely beneficial to your kitchen makeover.
7. AVOID MOVING UTILITY METERS AND SERVICES
Moving of municipal meters, such as your pre-paid electricity meter and even your DB board is an unnecessary expense. Itís better to leave them where they are and plan you build around them. Having a false door to hide the unsightly boxes is a great way to keep then inconspicuous and away from your eye. However, ease of access is very important.