What the future holds for Kitchen Design in 2020/2021:
As the year comes to a close. Youíve been saving up for that kitchen renovation, and are unsure if your taste will stand the test of time. Letís be sure to invest in a modern kitchen design that will not only bring value to your home but functionality with style and elegance. In this blog, we look to guide you in various options for trends of 2020 and 2021.
Stone Selection
Selecting the correct stone for your Marble/Granite countertops is of key importance as this will set the tone for the entire kitchen renovation. Totally Custom Designs in Cape Town only use the finest and strongest stone supplied directly from a single trusted supplier Earth-Stone. Together these to companies work hand in hand in selecting the finest stone finishing to bring New Life into your Kitchen.
Cabinetry
Selecting strong and durable kitchen cupboards to support such heavy stone is a factor one must always look out for. However, quality is not a substitute for style and we can select fine rare woods that bring a rustic yet modern look and feel to your new kitchen design. As style progresses, we prefer to create a timeless look, which can be done by installing handle less and streamlined cabinetry, creating a futuristic/modern finish to your home kitchen renovation.
Colour
This is where it gets tricky, colour choice is the possible the most difficult choice of all, Design trends show us the White/ Minimalist is the way forward, however, we donít want a run of the mill design, We want your kitchen renovation to embody all that you are, as this is where memories are made with the family. Adding a splash of colour as an accent can really bring a room together, from the colour of appliances to the kitchen cabinets, nothing ties a kitchen together like a splash of fresh colour.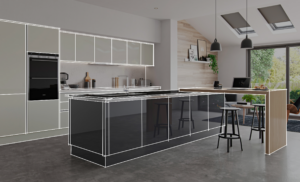 Next time, we will look into some more trends that could bring a uniqueness to your high-quality
kitchen renovation.